RC Dino Toy 🦕 50% OFF NOW! 🦖
Regular price
$79.90 USD
Sale price
$39.95 USD
Unit price
per

🦕
A remote-controlled dinosaur brought the real Jurassic Dinosaur Velociraptor to life with walking movements. This remote-controlled dinosaur has 3D eyes that mimic the real eyes of a dinosaur, as well as walking, growling, swinging its body and tail from side to side, and imitating a real dinosaur.
 🦖

As long as you press the toy dinosaur head button, the toy dinosaur can demonstrate how a real Velociraptor walks and roars. Boys and girls over three years old can easily control it forward, backward, left and right, wagging body and tail.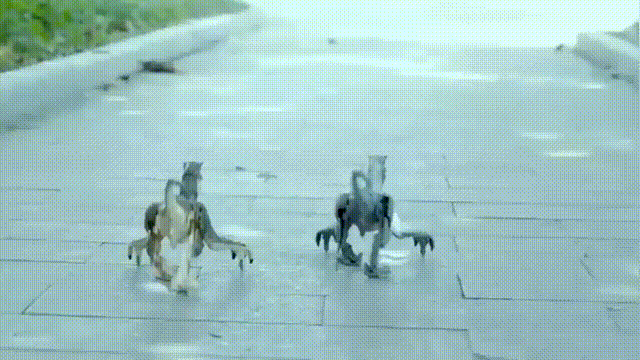 High version Velociraptor is larger in size (20in in length, 12in height) and more realistic in appearance.
DURABLE RECHARGEABLE BATTERY
The dinosaur toy with remote control requires 2x1.5V "AA" batteries (not included), and the rechargeable lithium battery in the RC dinosaur is 3.7V, 1200mah. After being fully charged, dinosaur toys for kids can last up to 2 hours of non-stop operation. An excellent operating system allows your kids to experience uninterrupted gaming time. It's an ideal remote control dinosaur for boys aged 4 to 13-year-old kids.
KID-FRIENDLY MATERIALS
Our RC dinosaur toy is made of premium sturdy ABS material, no odor, no fading, and no harm to kids! Strict secure test approved, meet US toy standard, which is ideal remote dinosaur toys for kids 4-7 8-12. Big dinosaur toys body length 18.1inch, realistic scales, horns, teeth, and more!


PERFECT GIFT FOR KIDS
Every child is a dinosaur fan. He really wanted a dinosaur toy. This large, remote-controlled dinosaur toy can stimulate children's imaginations. An educational dinosaur toy can help kids learn dinosaur knowledge and prehistoric culture. Dinosaur toys are a suitable gift for 3–8+ year-old kids, a surprise on a child's birthday, Halloween, or Christmas. The Dinosaur toy is a surprise for kids aged 3-5.
SPECIFICATIONS
Standard Edition Velociraptor (13.5cm*16cm*34.5cm):
4*AA batteries (remove the battery box and install 4 AA batteries)
Remote Control: (requires 2 "AA" batteries)


High version Velociraptor (21cm*20cm*45cm):
1 X USB Cable (Velociraptor built-in battery 3.7V 1200mah)
Remote Control: (requires 2 "AAA" batteries)
GIFT PACKAGE CONTENT
1 X Dinosaur Toys
1 X Specification
1 X USB Cable (Velociraptor built-in battery 3.7V 1200mah)
1 X Remote Control (requires 2 "AA" batteries not included)
1 X Portable Gift Box (Very suitable as a gift)
Share